Restaurant Review: Chloe
Haidar Karoum brings a hyper-eclectic mix of share plates to Navy Yard.
WRITTEN BY ANN LIMPERT | PHOTOGRAPHED BY SCOTT SUCHMAN | PUBLISHED ON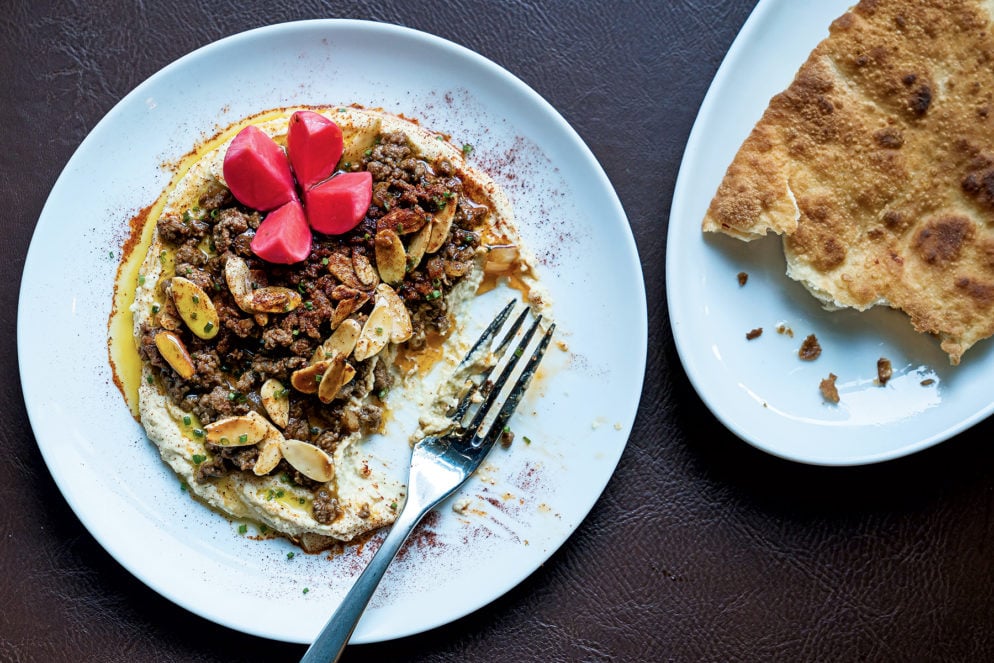 Hummus with sautéed beef and snowshoe naan at the eclectic new Chloe.
You may have noticed a trend growing among restaurants, in which chefs abandon a focus on cuisine or theme and simply center a menu around what they like to eat. When I was in culinary school, I tried this approach for my final project—a menu that included Crisfield-inspired crab Norfolk next to my grandmother's polenta. I got a C. My teacher was probably right—it's a rare chef who can seamlessly pull off this kind of culinary dilettantism; too often it comes across as lazy planning or a show of ego.
At Haidar Karoum's Navy Yard restaurant, Chloe, the chef says he went with a hyper-eclectic menu because he "didn't want to get stuck in one genre." But here's the thing—in his hands, a Vietnamese-accented roast chicken makes total sense sharing a table with Scandinavian-inspired broiled oysters. Many dishes are that fully realized.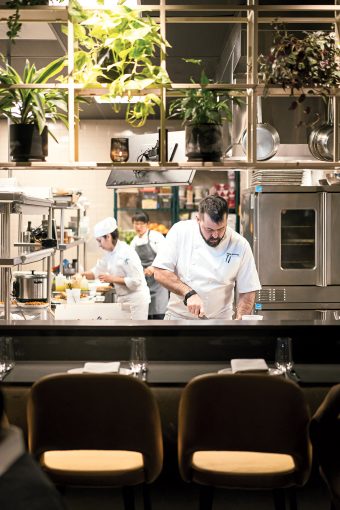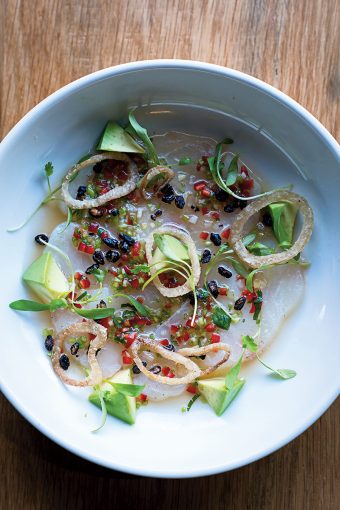 That's no accident. Karoum has been honing his skills in other people's kitchens for a long time. In the '90s, he worked for Michel Richard—otherwise known as "Captain Crunch"—at Citronelle, where he learned to play with texture. Then he spent seven years absorbing the seasons-are-everything lessons of Nora Pouillon. After that, the late Mark Kuller gave him free rein to master a variety of cuisines—Spanish at Estadio, Vietnamese and Thai at Doi Moi, and fine-dining plates at Proof.
And then there was his upbringing—an Irish mother and Lebanese father who exposed him to the cuisines of Europe during summer breaks, plus a Bailey's Crossroads home base that was a few miles from both Annandale's Koreatown and Falls Church's Vietnamese Eden Center.
Karoum's plates at Chloe reflect all of that. There's the fancified hummus—topped with buttered almonds and braised beef—that his dad used to make for guests. Karoum pairs it with a tangy naan made from a dough that swaps water for yogurt. A gorgeous cobia crudo sauced with nuoc cham gets a Richardian dash of crispy shallots and puffed rice. A beautifully crafted white sausage was inspired by the summers Karoum spent in Germany. You can also eat extremely well ordering vegetarian—flash-fried cauliflower in tahini (the top seller), stir-fried bok choy, or carrots with labneh.
A few plates lack the oomph of these standouts: A masa soup is bland, an Indian-accented cod is strangely shy on flavor, and desserts are a bit of an afterthought. But the hits outweigh the misses. If this is how Karoum likes to eat, I'm in.
This article appeared in the April 2018 issue of Washingtonian.